Mon-Thu 11-6
Fri-Sat 10-8
Sun 10-4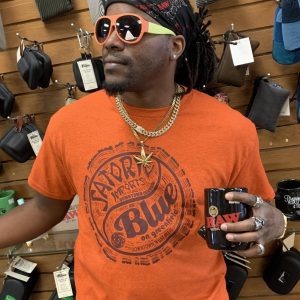 Free Fall Wood Slice T-Shirt Available Now!
Fall Wood Slice t-shirt now available FREE with any $50 purchase at Blue and Satori!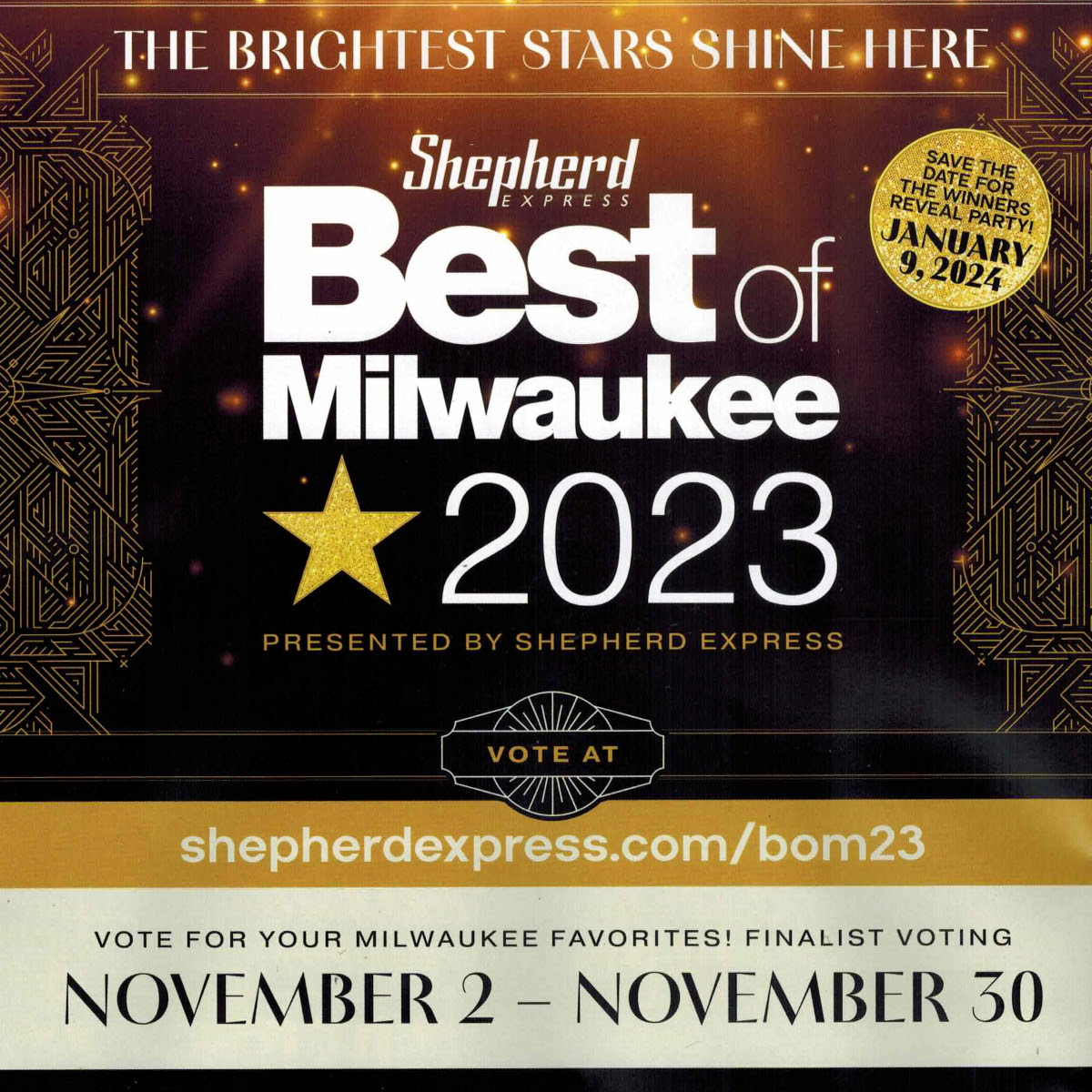 We're Finalists! Vote Blue-On Greenfield!
Best Head Shop and Best Vape Shop in the "Bought and Sold" category!
*Must vote in a total of 5 categories for your vote to be counted!
We appreciate your vote!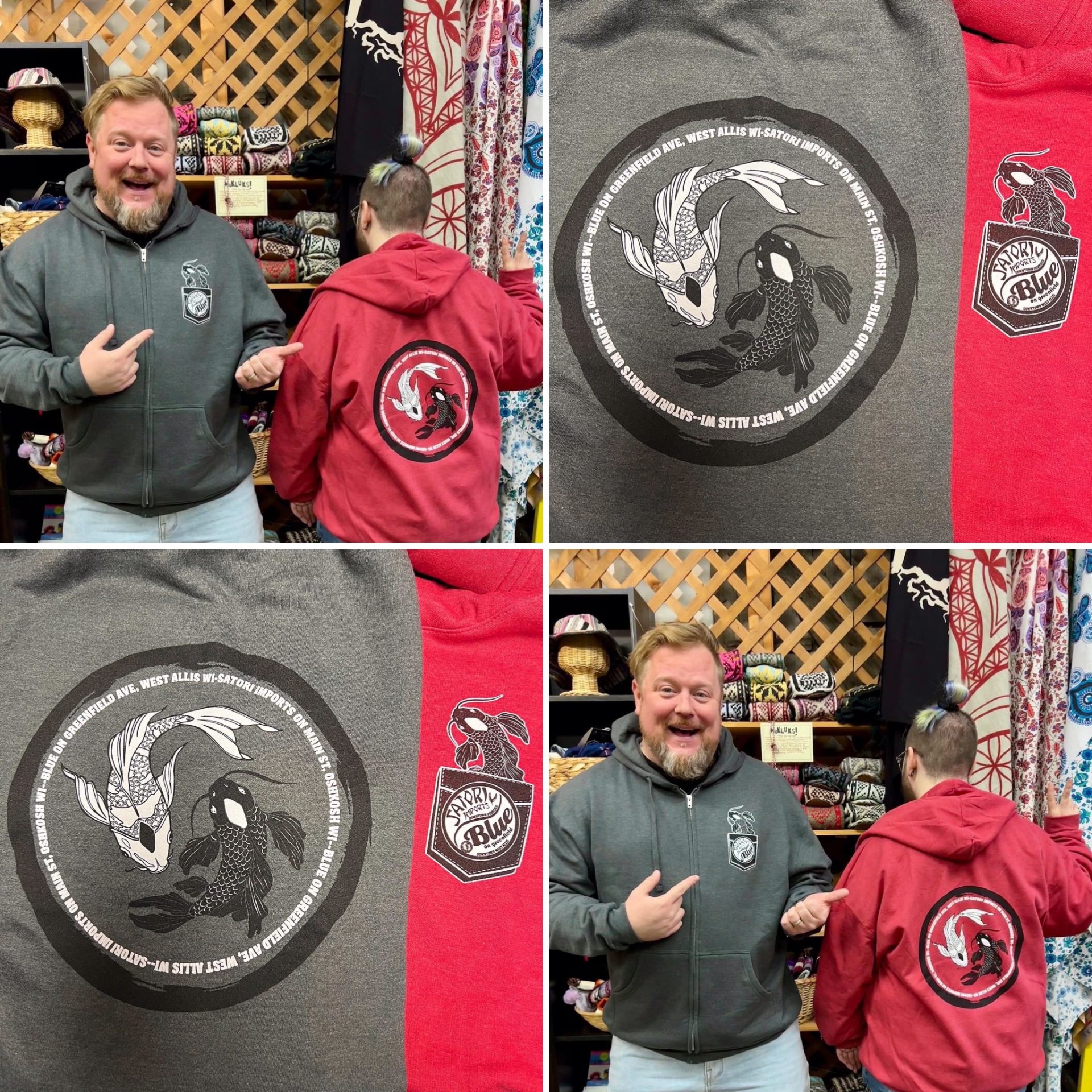 New Koi Zip-Up Sweatshirts!
New Koi Zip-Up Sweatshirts available now at Satori Imports (they will be available at Blue soon!) This beautiful design can be yours FREE with a $150 purchase or 15 punches on your Esteemed Satori Customer Punch Card!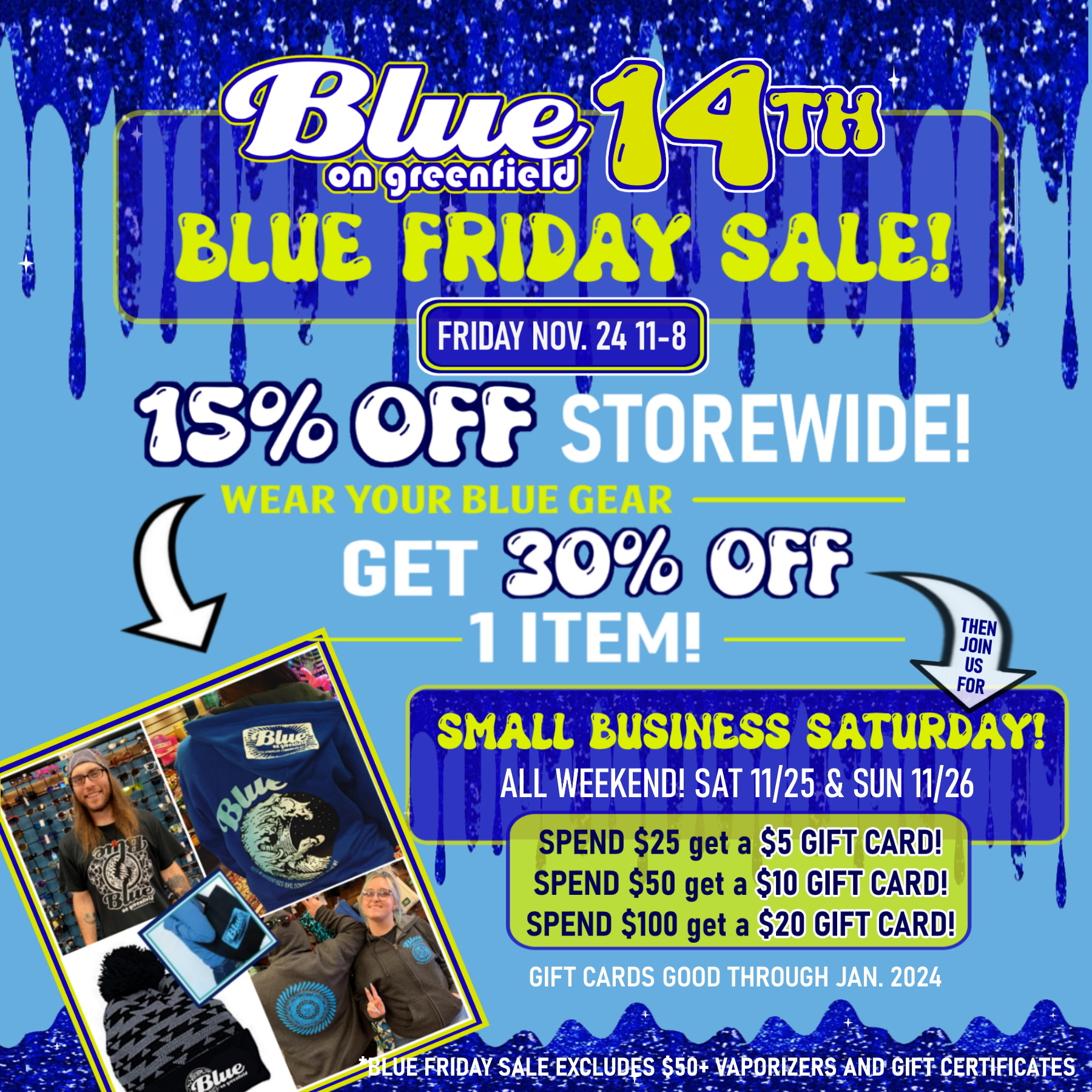 Blue Friday & Small Business Saturday Weekend!
Our 14th Anniversary is this Friday!
Come celebrate Blue Friday with 15% off storewide! Wear your Blue Gear and get 30% off one item!
Then join us this Saturday and Sunday for Small Business Saturday all weekend! Spend $25 get a $5 Gift Certificate, spend $50 get a $10 GC, spend $100 get a $20 GC!
Remember to Shop Small and Local this Holiday Season!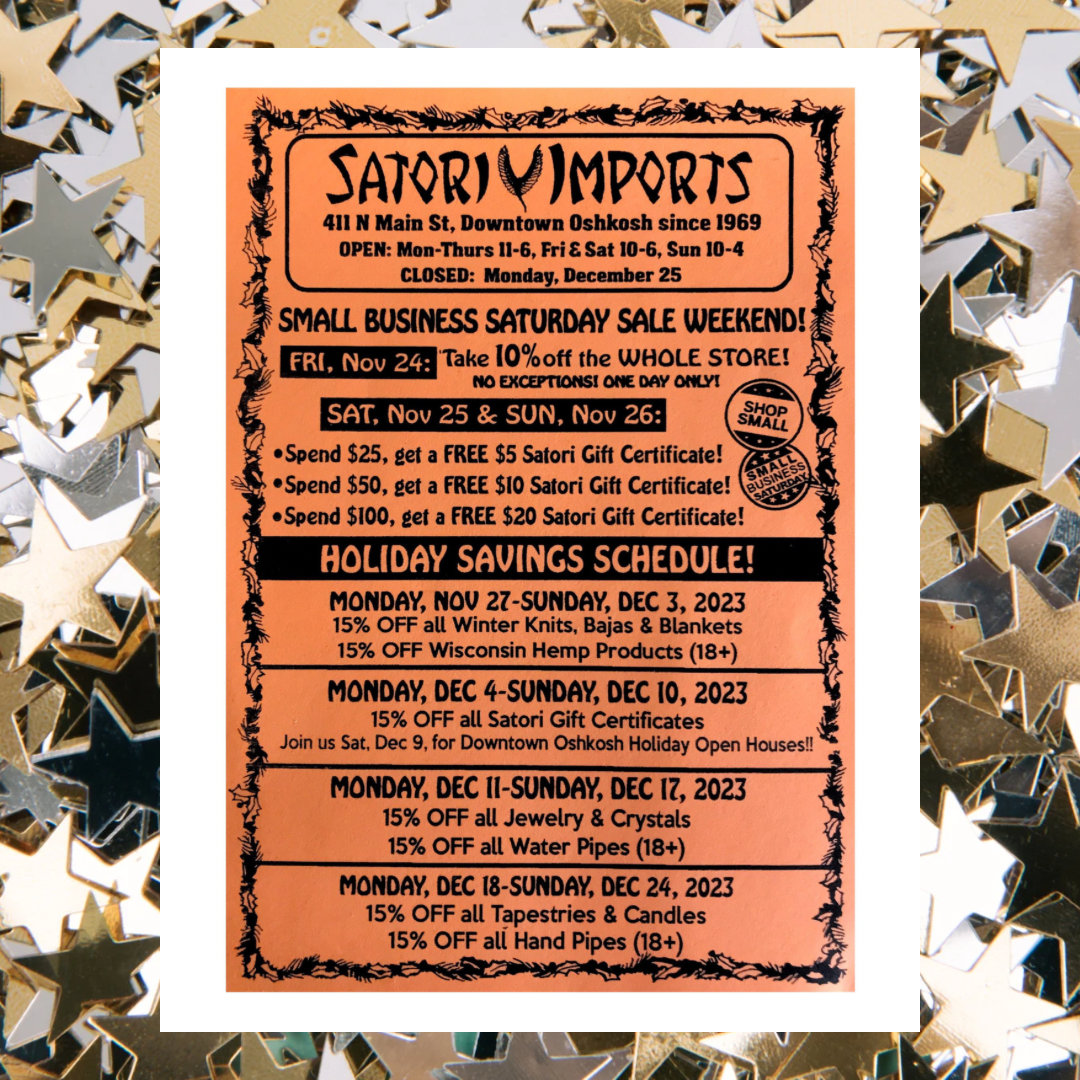 Satori Small Business Saturday & Holiday Savings Schedule Starts This Weekend!
It all kicks off on Friday, November 24th as we Celebrate Blue Friday for our sister store's 14th Anniversary! Take 10% off the whole store!
Then on Saturday the 25th and Sunday the 26th as we celebrate Small Business Saturday, spend $25 get a free $5 Gift Certificate, spend $50 get a $10 GC, spend $100 get a free $20 GC!
Our Annual Holiday Savings Schedule starts on Monday, November 27th and runs through Sunday, December 24th! Check the flyer for more details!
More than ever we stress the importance of Shopping Small and Local this Holiday Season! Happy Holidays!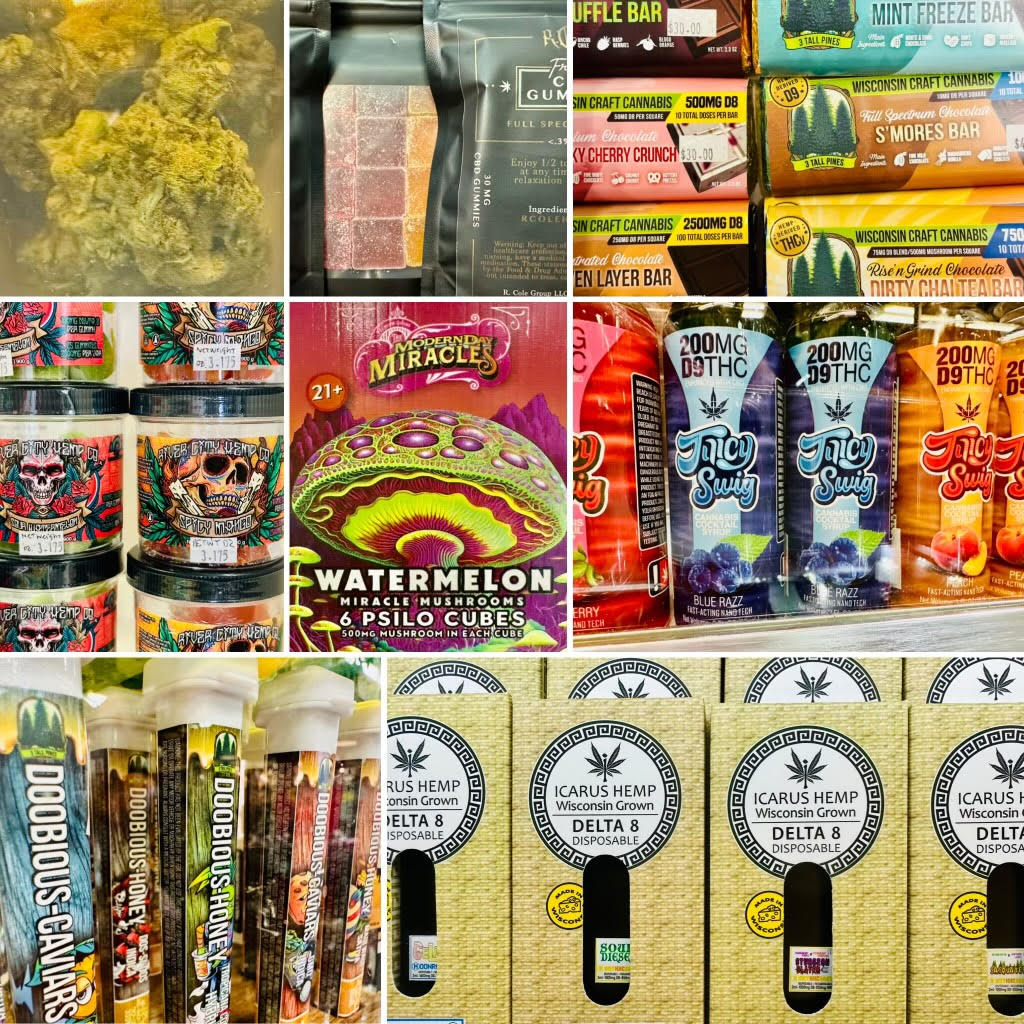 We proudly feature a full line of well-curated Wisconsin Hemp products - from gummies, caramels, syrups and chocolates to pre-rolled flower, tinctures and disposable vaporizers. Our friendly and knowledgeable staff can help you find a natural remedy to help make you a better human.
New! Natural Amanita Mushroom Gummies now fully stocked!
"The meaning of life is just to be alive."
"If you are unable to find the truth right where you are, where else do you expect to find it?"
"The quieter you become, the more you can hear."
"To bring peace to the Earth, strive to make yourself peaceful."
"Nature is my religion, Earth is my temple."
"The future depends on what we do in the present."
"Yesterday I was clever so I wanted to change the world. Today I am wise so I am changing myself."
"Life is the only thing worth living for."
"Knowing others is wisdom. Knowing yourself is enlightenment."
"When you realize there is nothing lacking, the whole world belongs to you."
"Do not let the behavior of others destroy your inner peace."